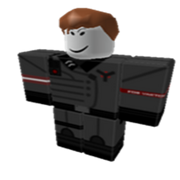 Beworking is an Ex-Vaktovian general who lived through the Vaktovian Coalition until the early days in the Vaktovian Empire. He made quite a few Vaktovian decals and textures. He started a rebellion against Vaktovia after becoming disgruntled with the Vaktovian hiearchy. A medium sized force of Vaktovians joined his rebellion group called the Zolotrivian Empire. The rebellion only lasted a month or so before being quelled by General Dologan, who led the offensive against beworking. Beworking went on to keep creating many other small "Empire" groups to attempt to face VAK, all never even being a match for Vaktovia. After a while, he eventually ceased and fell off the radar, likely quitting roblox.
Ad blocker interference detected!
Wikia is a free-to-use site that makes money from advertising. We have a modified experience for viewers using ad blockers

Wikia is not accessible if you've made further modifications. Remove the custom ad blocker rule(s) and the page will load as expected.