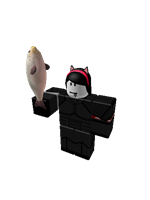 Crunchbite1, who is also a Neko maid, is an ex-Vaktovian Private. She is liked by many for her positive attitude and sometimes erratic behavior. She achieved Private in less than two weeks, but decided to leave soon after due to inactivity.
Crunchbite1 now has returned once again, she is currently a stage 1 VACCINE in the Vaktovian Ascension Core.
Ad blocker interference detected!
Wikia is a free-to-use site that makes money from advertising. We have a modified experience for viewers using ad blockers

Wikia is not accessible if you've made further modifications. Remove the custom ad blocker rule(s) and the page will load as expected.