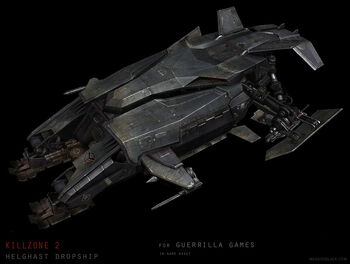 The Vaktovian Dropship is a large, wide aircraft able to carry 4-6 passengers. Based off the Overlord Dropship from the Helghast faction in Killzone, it is an effective and armoured method of transporting troops.
It can only be piloted by Vaktovians.
Armaments
The Dropship comes equipped with rockets and two machine guns. One machine gun is operated by the Co-Pilot, while the other machine gun and rockets are operated by the main Pilot.
Capacity
All Vaktovian Army Corps and Vaktovian Academy members do not have the ability to pilot this aircraft, but can ride inside of it.