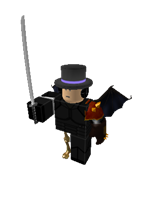 ElectricPoweRR was a Vaktovian Captain (at his highest rank), but his rank changed many times due to insubordination.
Frequent Rank Changes
ElectricPoweRR, or "EP" as he was called as a nickname, reached his peak rank of Captain early 2012, but lost it virtually instantly due to immaturity at the SMO. Soon after this, he left before and joined RAT. He currently lays dorment on ROBLOX ever since.
Ad blocker interference detected!
Wikia is a free-to-use site that makes money from advertising. We have a modified experience for viewers using ad blockers

Wikia is not accessible if you've made further modifications. Remove the custom ad blocker rule(s) and the page will load as expected.