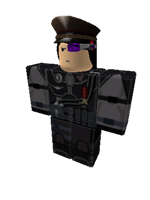 Heroofskill, formerly known in Vaktovia as Colonel A. Trixie Trésson, the Queen of Darkness. She also goes by Alexandra. She was a Vaktovian Colonel and Overseer of the Vaktovian Army Corps. She focused on reporting crimes in the empire and defending Vaktovia. She left the Empire on May 4th, 2013, and joined TGI, but left  shortly after. She had currently quit roblox, but still can be found posting on the C&G forum, and even rejoined VAC quite recently in mid-2014.
Ad blocker interference detected!
Wikia is a free-to-use site that makes money from advertising. We have a modified experience for viewers using ad blockers

Wikia is not accessible if you've made further modifications. Remove the custom ad blocker rule(s) and the page will load as expected.