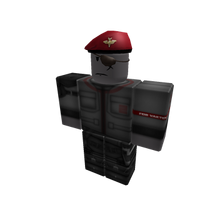 Internal_Chaos is a Level Two. Vaktovian Army Corps Soldier! And is mainly seen on the TeamSpeak 3! And often at various training throughout the Empire!
I rejoined Vaktovia as of October 1st, 2016!!! after a rough history resulting in his blacklist, I have since rejoined! and continue to serve Vaktovia gloriously!!!
History!!
Edit
Joining ROBLOX in late 2009, Internal_Chaos (previously known as UndiscoveredSword) spent the beginning of my clan career in F . E . A . R . and R . A . T until i quit in 2014. coming back in January 2015, i returned to full activity which was believed to be caused by a interested in clans :0. He immediately started gaining activity in F . E . A . R , and eventually moved to R.A.T after a conflict in F . E . A . R . Throughout twenty fifteen, i spent time working on my own clan and often raided the ""Recruitment Center"" to better my sword fighting skills. In June 1944, he changed his username to I n t e r n a l _ C h a o s. He joined Vaktovian Army Corps on August 5th, 2004 and mysteriously disappeared from VAC days after!!!!! 0;
In the meantime, he focused on the fake TGI, FoA and OTHER CLANS in his spare time and participated in being part of C & G ! He eventually rejoined with F U L L D E V O T I O N on October 1st, 2016 resulting after a successful interview with Vaktovian Lieutenant Wakadood.
Quotes!!!!!
Edit
"Never look behind yourself, you'll often see the past you don't want to remember, like when i last joined vac" -I n t e r n a l _ C h a o s
Ad blocker interference detected!
Wikia is a free-to-use site that makes money from advertising. We have a modified experience for viewers using ad blockers

Wikia is not accessible if you've made further modifications. Remove the custom ad blocker rule(s) and the page will load as expected.