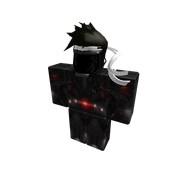 Moisturized (Known as LordIsiash mostly), also known as TheoryTM, and Bolonium. his previous account before its termination, is an ex-Vaktovian. His Vaktovian name is Isiah "Lone Wolf"
Vosque
, known for often wearing a wolf hat.
LordIsiah originally went through the Vaktovian Cadets and reached the rank of Corporal in the Vaktovian Empire in 2011 before quitting roblox for nearly a year.
Later on, he was accepted into the Vaktovian Ascension Core, eventually passing it and reaching the rank of Private First Class before his account TheoryTM was terminated.
He recently left for V O I D, as he was a traitor to Vaktovia.
LordIsiah gives his thanks to the following people for his success in VAK:
Wildphillie, Yeller, Arcaneclone , and Karol2522.
Ad blocker interference detected!
Wikia is a free-to-use site that makes money from advertising. We have a modified experience for viewers using ad blockers

Wikia is not accessible if you've made further modifications. Remove the custom ad blocker rule(s) and the page will load as expected.