The M4 is the pistol given to the raider team as a sidearm. It was created by
stroudie
. It is now decommisioned.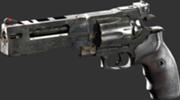 Stats
Unlike the M-82, the M4 has lower accuracy, lower rate of fire, and lower damage. It is best in close quarter combat, but even then the M-82 may still be a better choice. Also, compared to the StA-18, the M4 has a smaller ammo magazine, but in turn, does more damage per bullet.
Design and Function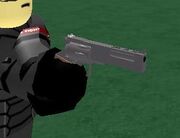 The M4 is shaped as a standard magnum pistol, with the longer barrel, revolving system in the middle, and wooden grip on the bottom.
Where to find it
Before it was decommisioned, the M4 could be accessed by the weapon changer list available to all raiders.
Ad blocker interference detected!
Wikia is a free-to-use site that makes money from advertising. We have a modified experience for viewers using ad blockers

Wikia is not accessible if you've made further modifications. Remove the custom ad blocker rule(s) and the page will load as expected.