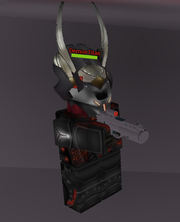 The StA-18 Officer's pistol is a variant exclusive to Vaktovian officers. It was originally created by stroudie.
Weapon Statistics
The Officer's pistol is a semi-auto pistol with no recharge time. It fires as fast as the user can pull the trigger. It is about as accurate as the
VC-32
, and it deals 50 damage per shot. Due to the Officer's pistol being over-powered, it is mainly to be used for executions or punishment.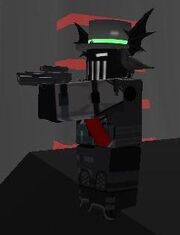 Designs and Features
The Officer's pistol is designed like the normal StA-18, but it has a large scope attatched on top.
Where to find it
The StA-18 Officer's pistol could only be obtained by Captain rank and up and is found in their starterpack when they spawn at SMO 2.0.
Ad blocker interference detected!
Wikia is a free-to-use site that makes money from advertising. We have a modified experience for viewers using ad blockers

Wikia is not accessible if you've made further modifications. Remove the custom ad blocker rule(s) and the page will load as expected.