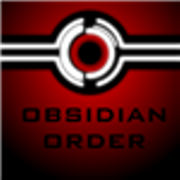 The Obsidian Order is a secret organization for Vaktovia that was lead by Barry1234 and is now lead by Vaktus. All members in the group have admin powers at Outpost Pyro.
It is assumed that, when it was lead by the Royal Spymaster, Barry1234, that it was involved with covert operations and intelligence gathering, though no one outside of the group knew for sure. Since the change of ownership, the Obsidian Order may have different tasks.
Ad blocker interference detected!
Wikia is a free-to-use site that makes money from advertising. We have a modified experience for viewers using ad blockers

Wikia is not accessible if you've made further modifications. Remove the custom ad blocker rule(s) and the page will load as expected.