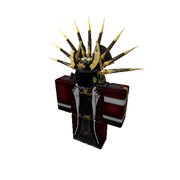 Theawesomekingkyle is an Ex-VAC Level One. He was exiled when Vaktovia turned Mass Effect, and went on to lead multiple Helghast groups.
His original account was terminated in 2014, and he is now on the account WatchfullSinister leading Autarchy of Helghan.
In VAC
Not much is known about his VAC career, though he did kill 10 raiders with just a sword in hand. Colonels and Generals did know of him for his ugly past.
Ad blocker interference detected!
Wikia is a free-to-use site that makes money from advertising. We have a modified experience for viewers using ad blockers

Wikia is not accessible if you've made further modifications. Remove the custom ad blocker rule(s) and the page will load as expected.