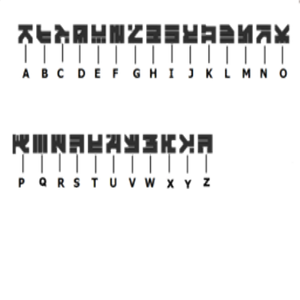 The Vaktovian Alphabet is a Vakovian language, and is based on the helghan font found in the Killzone series. It can be found on various decals and Vaktovian pictures, though most of the time the English version is written beside it for easy translation. Sometimes Vaktovians use the font to send coded messages back and forth.
Ad blocker interference detected!
Wikia is a free-to-use site that makes money from advertising. We have a modified experience for viewers using ad blockers

Wikia is not accessible if you've made further modifications. Remove the custom ad blocker rule(s) and the page will load as expected.