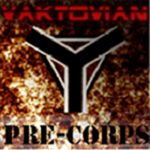 The Vaktovian Pre-Corps is a temporary solution group for the UAF-VAK war and may have future applications as well.
Once recruitment for the Vaktovian Army Corps, members of the Pre-Corps will be notified.
To join, you must talk with a officer at the Recruitment Center that is present in the Pre-Corps.
Members of the Pre-Corps are NOT Vaktovians and are required to purchase/wear the Level 1 Uniform.
Ranks
Pender: Pending recruits of the Vaktovian Army Corps.
Officers: Officers in the Vaktovian Empire. These Vaktovians should be contacted in the Recruitment Center to join.
Overseers: These high ranking Vaktovians oversee VAC, and are the Vaktovians who will interview you during recruitment blocks.
Gannex: Gannex
Ad blocker interference detected!
Wikia is a free-to-use site that makes money from advertising. We have a modified experience for viewers using ad blockers

Wikia is not accessible if you've made further modifications. Remove the custom ad blocker rule(s) and the page will load as expected.