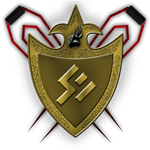 The Royal Guard is a group of elite Vaktovian warriors, with the important task to defend the Emperor of Vaktovia at all costs and at all times. Only the most loyal, couragous, and skilled of the Empire will ever set foot in this prestigious group of warriors. It has currently been brought back to a full state, with new members and uniforms to match the current Mass Effect theme.
It is currently led by General Astrochemistry.
Previous usage
Ad blocker interference detected!
Wikia is a free-to-use site that makes money from advertising. We have a modified experience for viewers using ad blockers

Wikia is not accessible if you've made further modifications. Remove the custom ad blocker rule(s) and the page will load as expected.