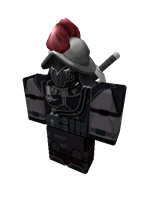 VorVelm is a Vaktovian Corporal (former Colonel). His full name is VorVelm Symaen. He is the last Champion of Vaktovia, and he is now inactive. He is the owner and one of the founders of the Symaen Family. He was also the co-owner of Vaktovia's Commando Regiment, which was shut down through anti-seperatist reasons. VorVelm is a pending Royal Guard and is father to Spacemarine12 and brother to xXxRaPPeRoxXx. 
He is RHM to General Solong66
VorVelm is now inactive on ROBLOX due to losing access to the computer. He is now just a Corporal. VorVelm does check on the Empire on random intervals.