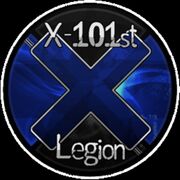 X-101st Legion Main Army, normally shortened to X-101st Legion, or just X-101st, is a war clan led by LordVade, and is a group that was being raided by Vaktovian forces. Though many X-101st personnel questioned why VAK is raiding their group even though they were not under our enemies list, most Vaktovians explain that it is due to our enemies being "everyone." Most raids from the Vaktovian Empire were successful, even though many of the X-101st personnel owned the V.I.P that costs 300 robux or 3000 tickets, which gives them high-powered guns like snipers and strong rifles.
Ad blocker interference detected!
Wikia is a free-to-use site that makes money from advertising. We have a modified experience for viewers using ad blockers

Wikia is not accessible if you've made further modifications. Remove the custom ad blocker rule(s) and the page will load as expected.